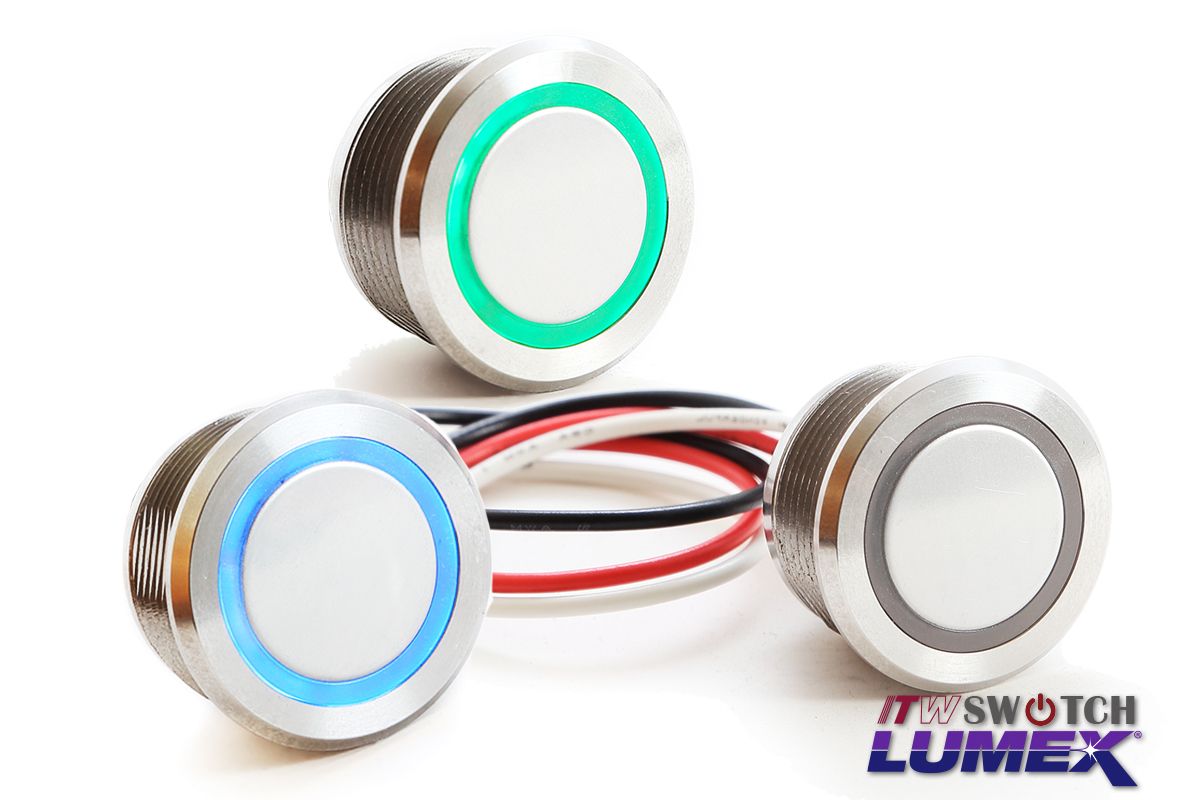 Capacitive Touch Switches
ITW Lumex Switch
Capacitive Switch is a touch switch activated by detecting changes in capacitance. The human body is electrically conductive and carries a small electrical charge. When the human touches the switch surface, the electrical charge will be transferred from human skin to the switch. The electrical charge will then cause a change in capacitance of the switch. This capacitance change disturbs the existing electrical charge composed in the switch and changes its electricity flow. This is where and when the capacitive switches receive the signal to trigger or execute an action. People may wonder why human body carries a tiny electrical charge. This is due to the human body contains water or in other words our body is mostly made up of water, and water contains charged ions which make it a perfect conductor of electricity.
---
Capacitive touch switches are available at ITW Lumex Switch. These rugged electro touch switches feature capacitive sensing mechanism and allow users to activate device by a simple touch on the surface of the switch. Like using smartphones, capacitive touch functions can always make switching easy, simple, and fashionable!

#Capacitive touch switch, #Contact switch, #Touch switch, #Capacitive switch and capacitor switch.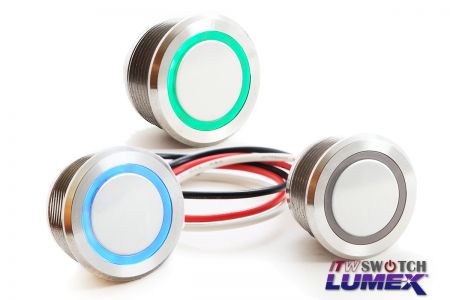 EC Series
ITW Lumex Switch EC Series is a capacitive touch switch. These vandal resistant switches are rated...
Details
ITW Lumex Switch Flier
Download the ITW switch flier to discover more!

Download
Capacitive Touch Switches | Metal Pushbutton Switches | Electronic Components Manufacturer | ITW Lumex Switch
Located in Taiwan since 1970, ITW Electronic Business Asia Co., Ltd. has been a pushbutton switches electronics manufacturer. Their main electronic components include, Capacitive Touch Switches, push button switches, micro switches, push pins, rivets, clips, latches, fan fasteners, cpu, heat sink retaining component cpu abd special screws, which have 19,000 granted and pending patents.
ITW EBA has over 50 years of experience in switches, fasteners, dampers, connectors, and IC package solutions. Well-known product brands include ITW Lumex Switch (Push Button Switches, Touch Switches, Micro Switches), ITW ERG Components (DIL Switches), ITW Fastex, and ITW ECPS. The coordination of our corporation's resources with the skill and ingenuity of our engineers provides customers with ITW advantages. ITW Lumex Switch is a premier fastener manufacturer and developer, with vast resources and knowledge in material and process technologies, offering a wide range of products for a variety of applications and industries.
ITW Lumex Switch's electronic components are suitable for the automotive, appliance, instrument, medical, construction, and IT industries, both with advanced technology and 50 years of experience, ITW Lumex Switch always makes sure to meet each customer's demands.